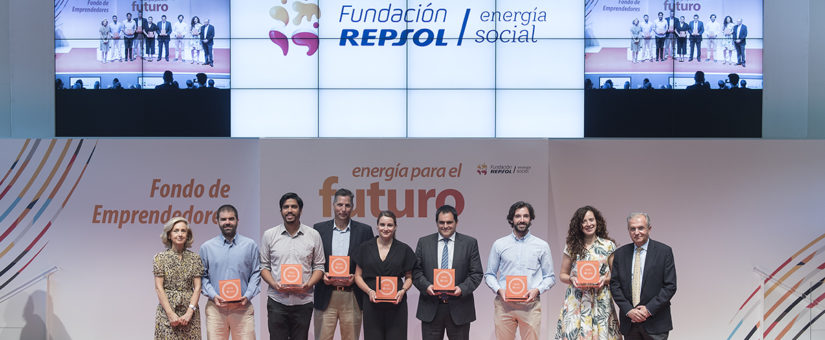 During this first semester, Inesco has competed with more than 360 companies and we are proud to have been chosen, for the second time, as one of the most innovative projects in the 7th call for proposals by Fundación Repsol's Entrepreneurs Fund.
As part of its commitment to a more sustainable energy future, Fundación Repsol launched the Entrepreneurs Fund in 2011 with the aim of supporting the best sustainable technological solutions in the energy and mobility fields. This year, seven most innovative applications were then chosen by the jury after a rigorous evaluation process and selection among 364 proposals presented.
The presentation event took place on Repsol Campus in Madrid and was attended by Ignacio Egea, vice-chair of Fundación Repsol and by Begoña Elices, Repsol's Executive Managing Director of Communication and the Chairman's Office, and members of the Foundation´s Board of Trustees.
In our first year of the acceleration program, we have developed with the support of Fundación Repsol, a disruptive a tool for continuous and real-time evaluation to manage coke drum degradation mechanisms. Throughout the year, our team counted in addition to financial support, mentoring, training courses and contact to key people and access to data from Repsol´s refineries to develop our technology.
Now, being selected as project, we will receive up to €144 000 over one year (extensible to two) to validate our product in addition to trainings courses y support of Fundación Repsol's Entrepreneurs Fund to reach the market as quick as possible.
We feel honored to be once again one of the winners and for the opportunity to continue this trajectory of success.
Congratulations to all the finalists! We are looking forward to start the acceleration program after the summer!
Posted by admin
On 06/08/2018