Fatigue and fracture analysis
Analysis of components at the design stage

The application of structural integrity techniques allows structural and mechanical designs which are less susceptible against fracture, fatigue, creep or corrosion processes to be defined.

An adequate material selection, appropriate weld techniques or satisfactory radii on structural details are some of the examples through which the structural integrity services provided by Inesco Ingenieros allow our clients to design safer and more efficient structures and components.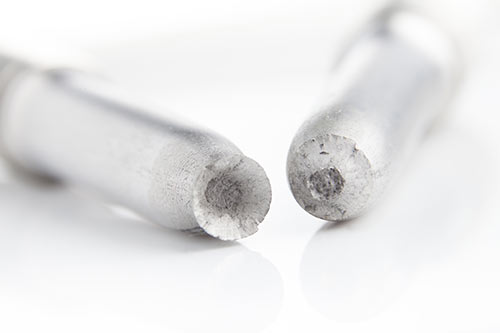 Fabrication and assembly support

Structural integrity assessments are a very useful tool during the fabrication and assembly of industrial components, also being a key factor in competitiveness.

The determination of maximum allowable defects on final products, or the definition of the consequences on the structural integrity of mechanical damage caused during fabrication or assembly are just two of a large number of situations where our staff has provided support and advice to our clients.
In-service assessments

An adequate management of industrial components and structures is a key factor for competitiveness.

Once in-service, defects (generally cracks) may develop on such components and structures, and the implications of this phenomenon on structural integrity are not evident. Small cracks can produce unexpected failures, whereas long cracks may have little influence on safety or performance. Therefore, when structural integrity assessments are not developed, catastrophic failures may happen or unnecessary repairs or replacements may be done.

Again, the support and the advice provided by Inesco Ingenieros allow our clients to avoid these situations.
Failure analysis

Only from the knowledge of the mechanisms and reasons that cause the failure of structures and components is it possible to avoid such failures in the future.

Inesco Ingenieros has a wide experience in failure analysis, and has analysed the failures of the products manufactured by our clients or the failure of their facilities and equipment. With the results obtained, it is possible to provide recommendations on possible design modifications, the use of other materials, a change in working conditions, to establish responsibilities, etc.